If We Were Meant To Be Nude We Would Have Been Born That Way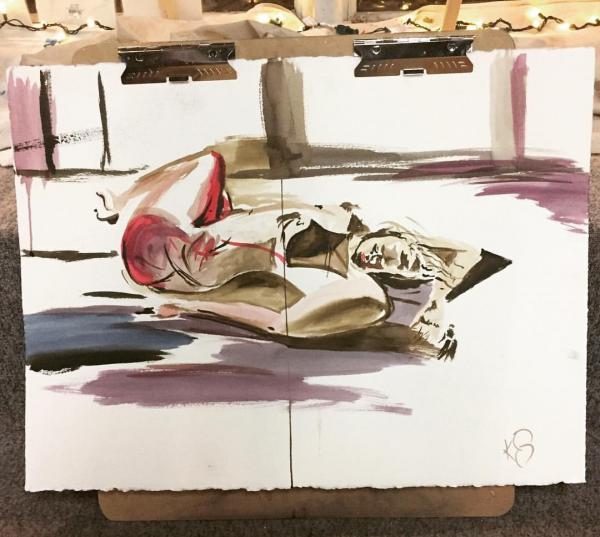 "If we were meant to be nude, we would have been born that way." -- Oscar Wilde
My house growing up always had a ton of nude paintings in it...Artsy ones. I remember one with a beautiful naked women lounging seductively on a bed with a sheet draped just over her hips, her legs and bum exposed. I also remember another one with a woman sitting in a flower garden, wearing a sheer dress that showed off her naked breasts. Because I lived there, I didn't find these pieces of art strange to have in my house, but I do remember my friends, particularly the teenage boys really getting a kick out of them! I never gave them too much thought, and never thought of the models in these works of art being real people. My Dad made a joke to my friends that my Mom struggled financially as a young woman and had to pose naked for artists to make extra money. Some actually believed him! These models were certainly not my Mom...But there is a framed watercolour painting hanging in my hallway, and the nearly naked model is ME!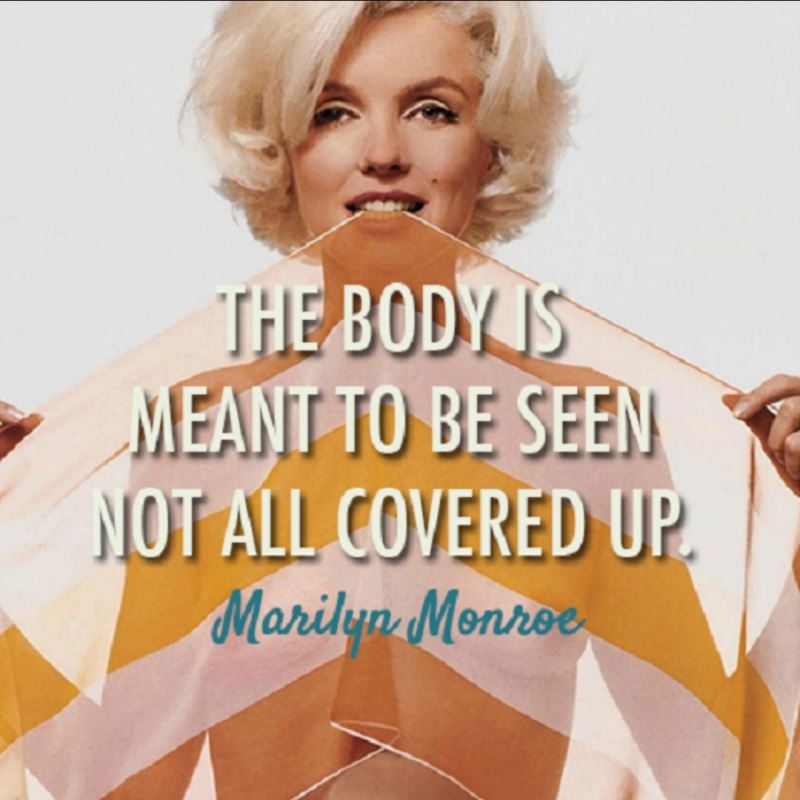 Let me back up a wee bit and tell you about how I became a nude model. My cousin Kait is an extremely talented artist. I was scrolling her Instagram one day and came across a stunning painting of a naked woman that she had painted. I was intrigued and asked her about it. She said the model was actually one of her friends. The way she captured her friend's form was just breathtaking. Without even giving it a second thought or thinking about how I actually think I look naked, I said that if she ever needed another model to sit for her, that I would do it. Did I think this through at all? Absolutely not. Am I a girl that parades around proudly without any clothes on? That is another absolutely not! Or more like a hell no to be honest! One afternoon, months later, I got a phone call from Kait. My kids were being bonkers and my animals were being lunatics. Kait told me that the model they had lined up for her art school's figure drawing class that night had to cancel at the last minute and the school wanted to know if I could come and model for them. I hesitated. And then I looked at the nut house I was currently sitting in. All I heard was the opportunity to have a few hours of adult time and I said "YES!" I took a quick shower and put on some makeup and picked out my very finest underwear and headed to my first modeling gig!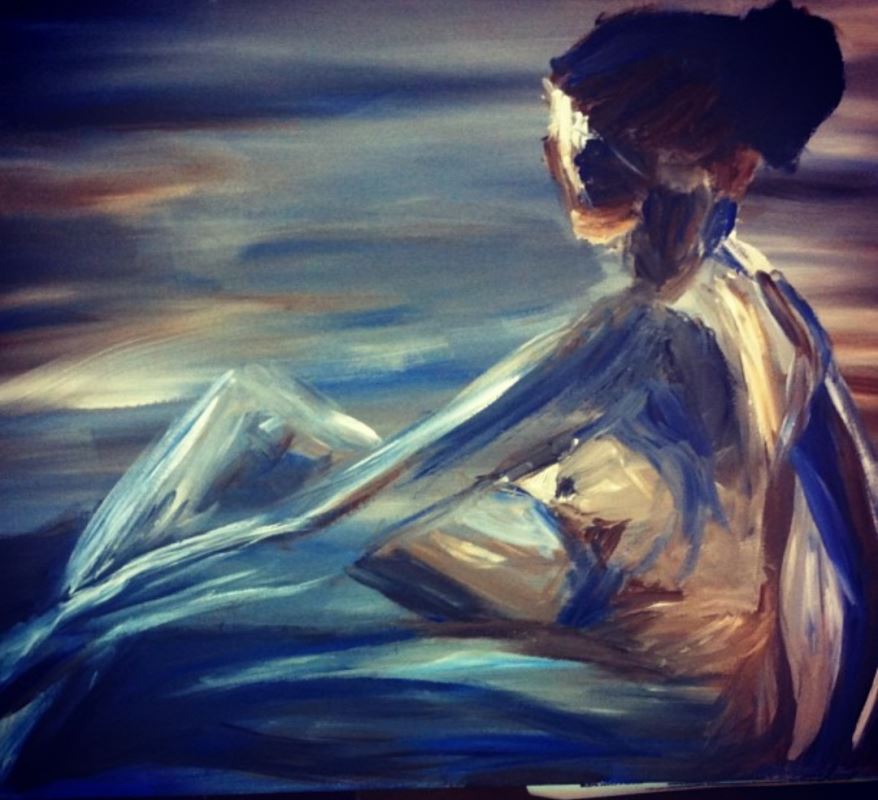 Kait's first nude painting, the one that made me want to pose for her!
I had absolutely no idea what to expect. The artists were meeting at a local coffee shop. It was closed to the public and a curtain over the window, so there was no free peep show with the espressos that night. I was relieved to see that it was all women artists. They made me feel comfortable and welcome. The artists began setting up their easels and taking their art supplies out. There was a stage with heavy lights pointing in the direction of where I would be posing. I went into the bathroom and took off my dress and kept my underwear on. I wasn't ready for full nude yet and the ladies said that was totally fine. I came out of the bathroom with my robe on and got up on stage. I only got nervous for the few seconds leading up to me taking off my robe and it was right then that I blurted out "please ignore my cellulite and stretch marks...I have had two kids!" The ladies all laughed and one of them said that they don't have time to paint cellulite!! That made me laugh too and I began to feel way more comfortable.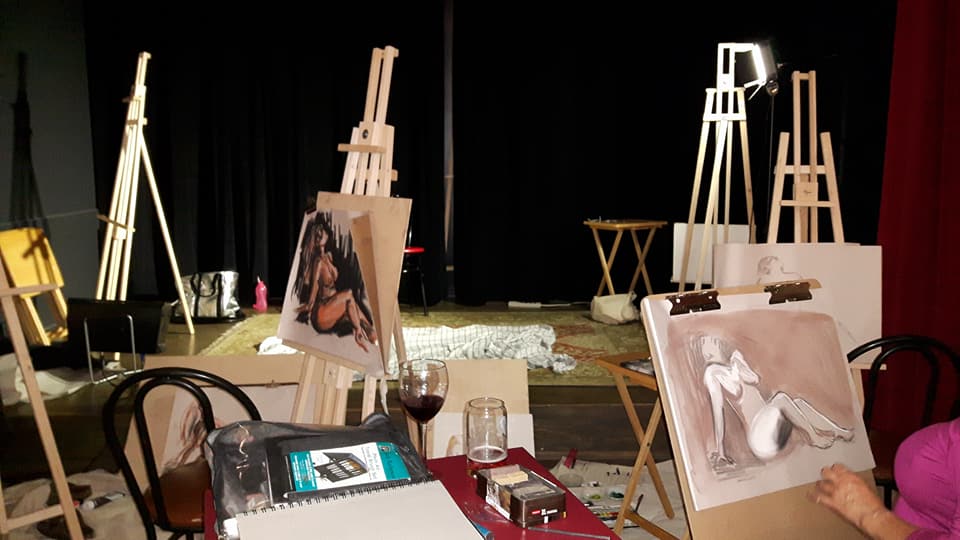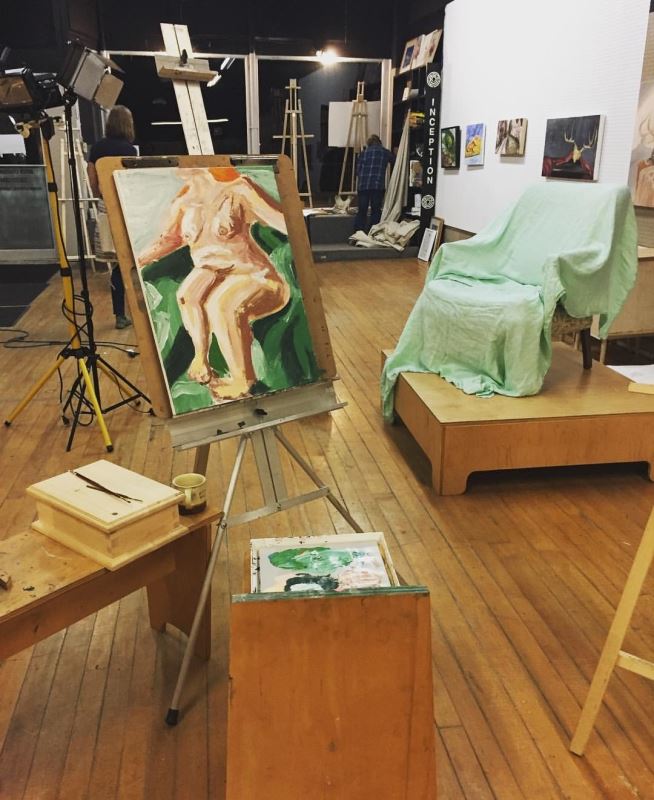 Over the course of the session, I began to be less aware that I was standing there with no clothes on and more aware of the fact that I felt this wave of confidence coming over me. I felt seductive and beautiful. The artists were focusing on the curves of my waist and hips, one of them commenting how nice it was to paint someone with such a womanly figure. I felt peaceful and at ease and quite honestly forgot that I was in such a vulnerable position.
It felt like I blinked and the two hour session was over. As soon as the paintbrushes and pencils were put down, I put my robe back on and wandered around to look at the works of art. I was actually quite amazed at how some of the artists saw me and how their visions translated onto their canvases.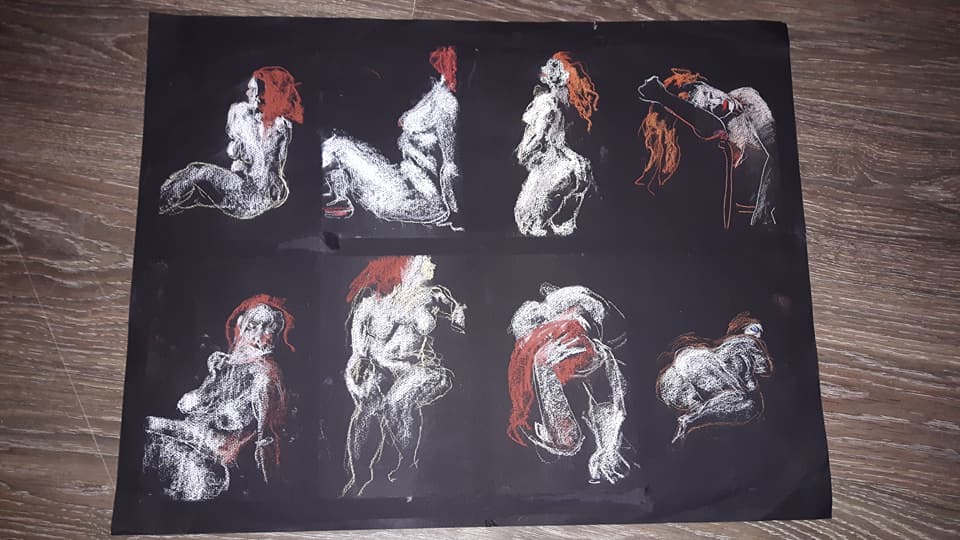 Artist: Rhonda Abrams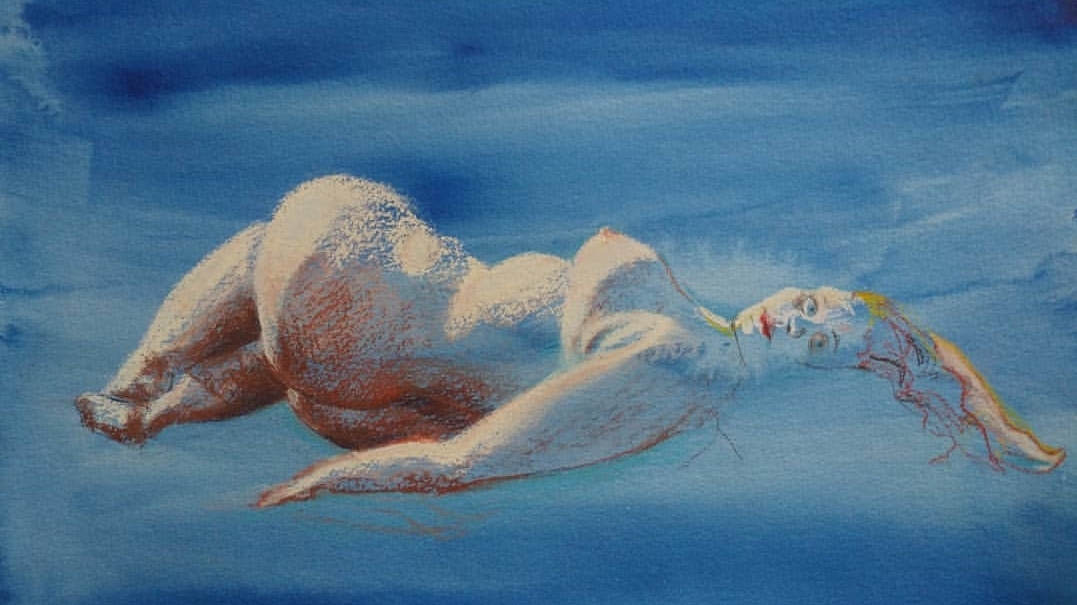 Artist: Rhonda Abrams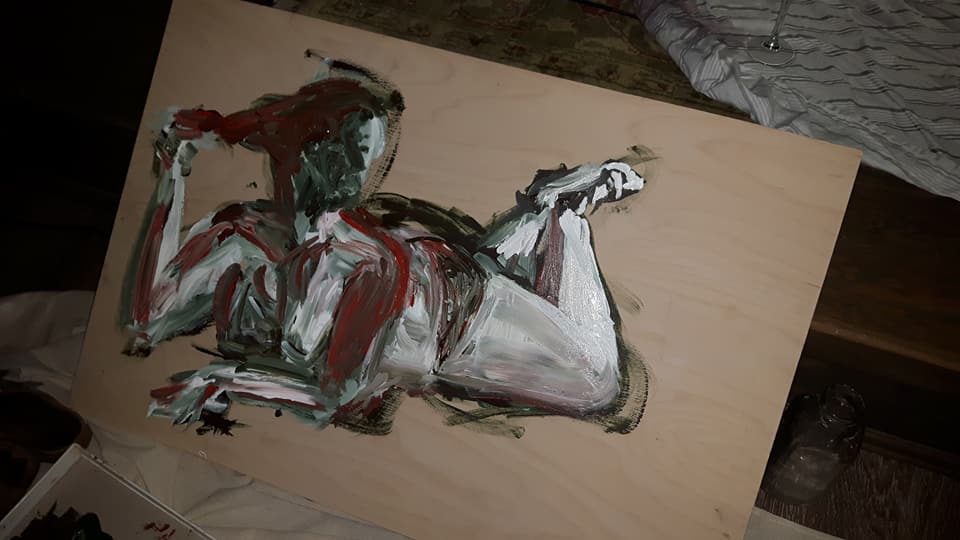 Artist: Kait Benninger
I left with a bit of money, a paid modeling gig thank you very much. But more than the money I left with a new confidence that I hadn't felt in a long time. We are so hard on ourselves as women...I am still working on being kinder to myself with my self-talk. But posing for these artists was a confidence booster. I have modeled now several times and I don't get nervous anymore. I no longer feel the need for a disclaimer on how my body looks. I take my clothes off, get up on the stage and pose like the super woman I am. And after my clothes are back on and I get to see the art from that evenings session, I am reminded that others see me as something pretty special too.
The Durham Art School is run by local artist Rhonda Abrams. There are classes for artists of all skill levels. If you are interested in being a model for one of their sessions or for more information on how to take part in some of these classes visit their website http://www.durhamartschool.com/
A few of my favourites, including the watercolour painting I bought and had framed for my own home.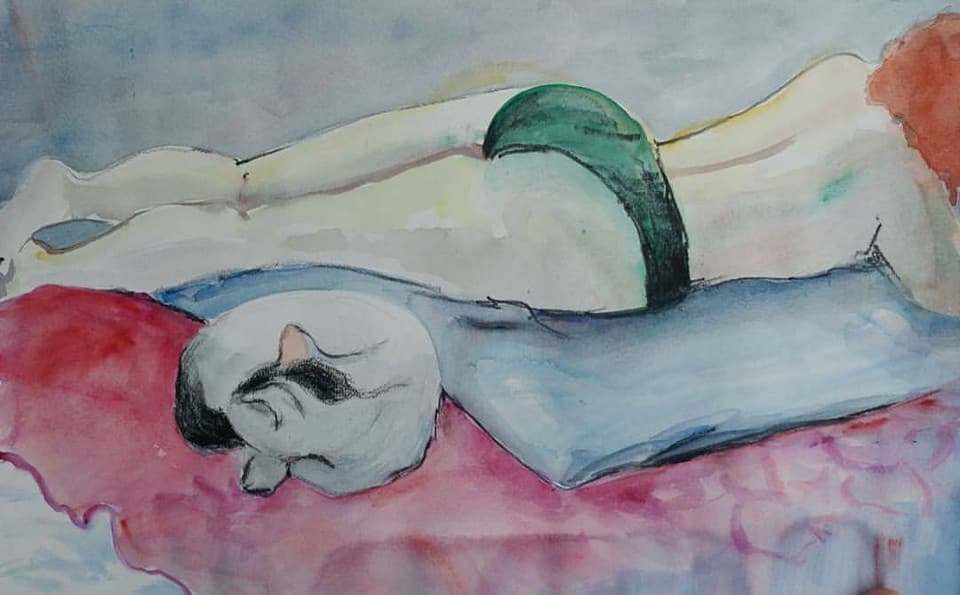 Artist: Rhonda Abrams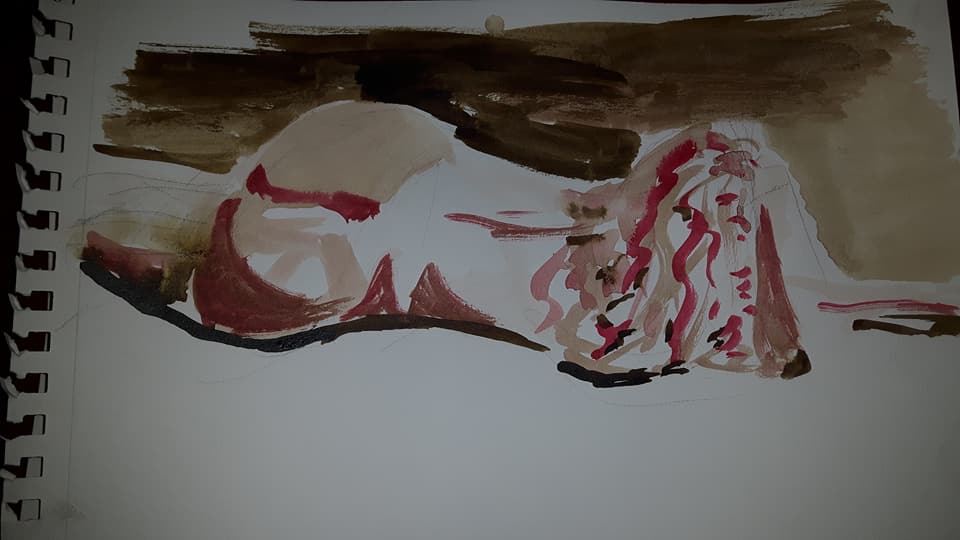 Artist: Kait Benninger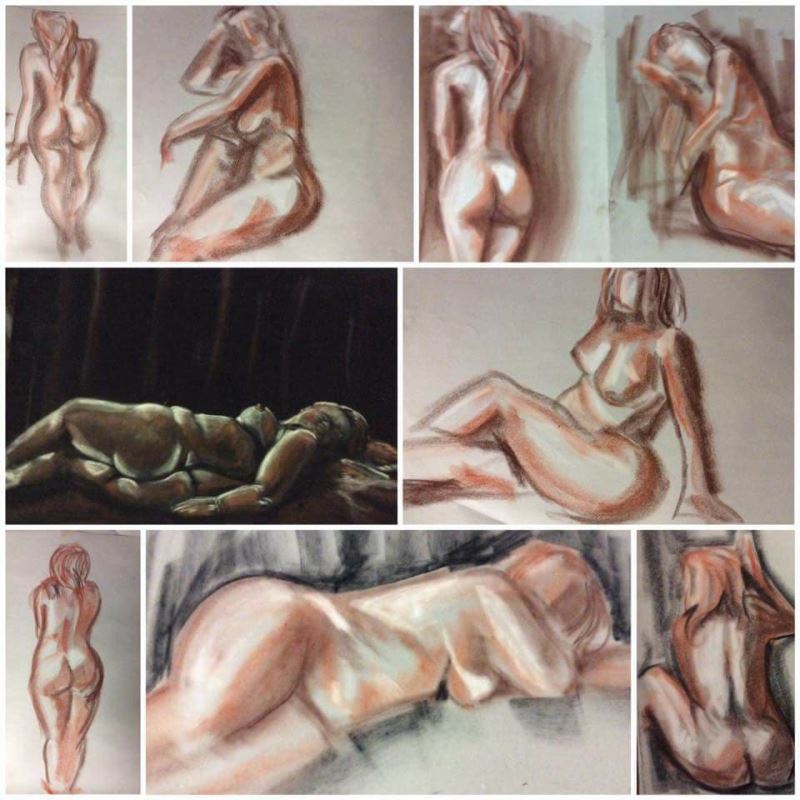 Artist: Alicia Charlton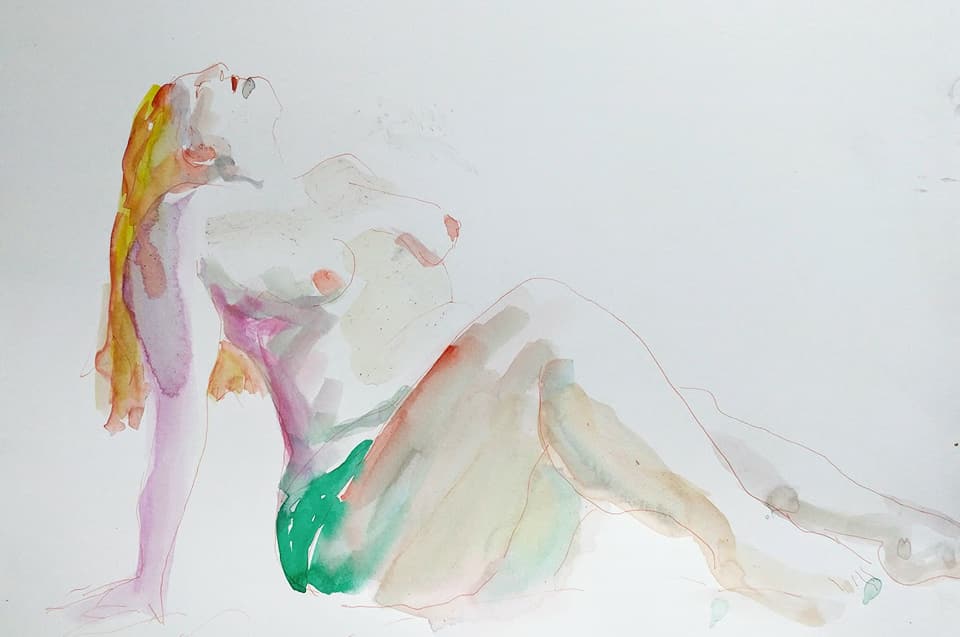 Artist: Rhonda Abrams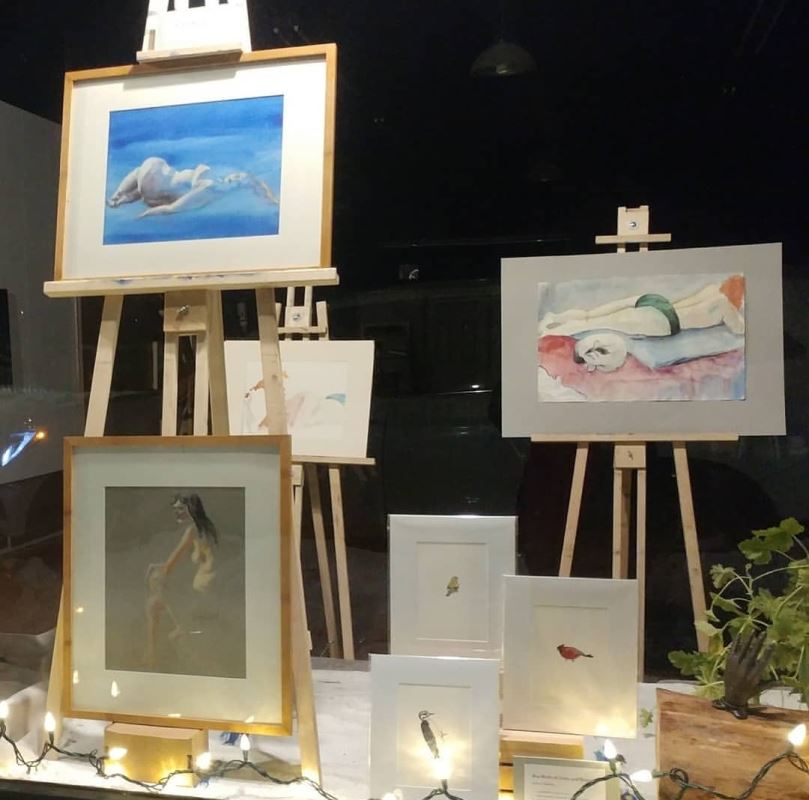 Artists displaying their work in their studio window. The whole town got to see more of me than I had anticipated!
Marilyn Monroe was a beautiful woman and she had some wise words that I am going to leave you with.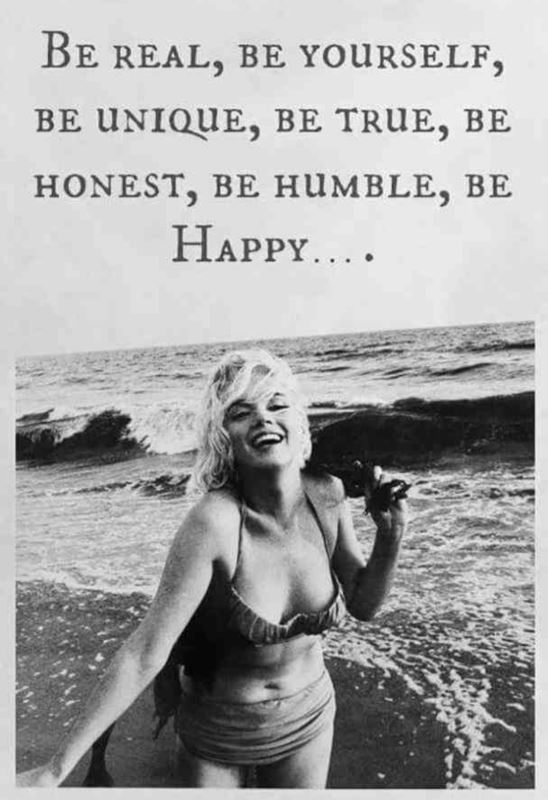 Brooke
Comments
Tuesday, October 22, 2019
Brooke these are absolutely beautiful! What an amazing experience that must have been!
-- Becky
Thank you Becky! The first night modeling is a memory that I hold dearly for sure. I do continue to model for the Durham Art School on a fairly regular basis and enjoy it each time but that first one was special.

Brooke
---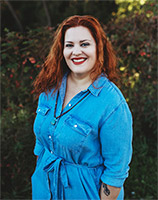 Writing an "About Me" is not easy. How do I pick and choose the pieces of my life that molded me into the person I am or deem the milestones and memories as important enough to tell you about in this little "About Me"...Well, I often joke that I have
Read more about me...