Thursday, June 2, 2022 - You may recall a blog post...from a few MONTHS ago...about my main bathroom renovation. This was supposed to be a three week job and well, it's June and the paint still smells pretty fresh and new because it was literally just painted a couple weeks ago. This renovation taught me the kind of patience I didn't know I had. And I can write about it fairly candidly now because, well, it's almost all over. Almost. Not quite, but definitely done enough to share with you the end result with a few pictures! The jumping off point for my design concept of this bathroom was my retro green wall tiles. I touched on this in the previous blog post, so no real need to get into it again! But every product choice made went back to that wall ...
Continue reading
---
---
---
---
---
---
---
---
---
---
---
---
---
---
---
---
---
---
---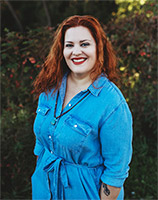 About Me
Writing an "About Me" is not easy. How do I pick and choose the pieces of my life that molded me into the person I am or deem the milestones and memories as important enough to tell you about in this little "About Me"...Well, I often joke that I have
Read more about me...