Our Nautical Nursery
This past year has been a bit of a blur. A ton of stuff has happened. But, for some reason, I couldn't bring myself to write. I was suffering from writer's block. I just needed to live life instead of live life and write about it. I am easing back into the blogger journey with an easy post and sharing my flair for home decor with photos of our Nautical Nursery. We were blessed with the sweetest little baby boy named Orry James and we made sure that he has the sweetest little bedroom.
We chose a Nautical Coastal theme for the wee man because Daddy has a real love for the East Coast and we are both water lovers. As much as we love the ocean, neither one of us is too keen on swimming in the ocean, which we both find sort of funny! But decorating with this theme? I thought this would be a whale of a good time! (See what I did there?!)
I will start at my dresser area and do a little photo tour of the bedroom. A nautical nursery absolutely needs some buoys! I wasn't sure how I was going to use the buoys, but I needed to have some. I enlisted the help of a woodworking friend to make some buoys and Will and I had some crafty nights painting them. No real colour scheme was set yet, which made every colour perfect! The mix of red, lilac, turquoise, blue and white came together beautifully and we just happened to have all of the colours from previous painting projects. The walls in the room were already painted a great neutral colour called "Yukon Sky" which can look various shades of blue or purple based on the light. The finished painted buoys looked like they were meant to go with the Yukon Sky walls.
The painting above the dresser came from a beach market in Sosua, Dominican Republic. I used to live there and this painting had been one I had noticed and admired on my daily walks on the beach but I was too cheap to buy it. Finally one day I parted with the money and took it home with me. It has been sitting, rolled up on canvas for over a decade and when we decided on this theme, I had it stretched onto a new frame. The wall above the dresser was the biggest in the room and the best place to hang such a colourful statement piece.
The globe, framed orca print and starfish finish off this little area of the bedroom. Of course the red letterboard we took to the hospital to announce our Valentine's Day baby is also going to be displayed here!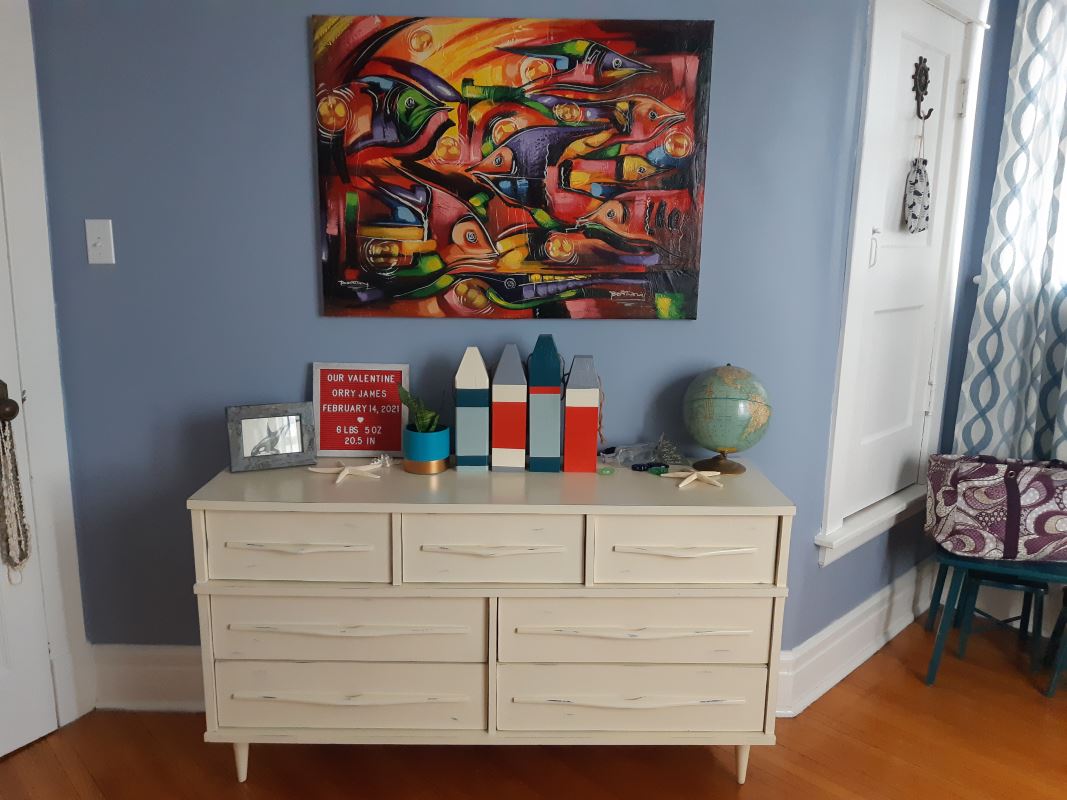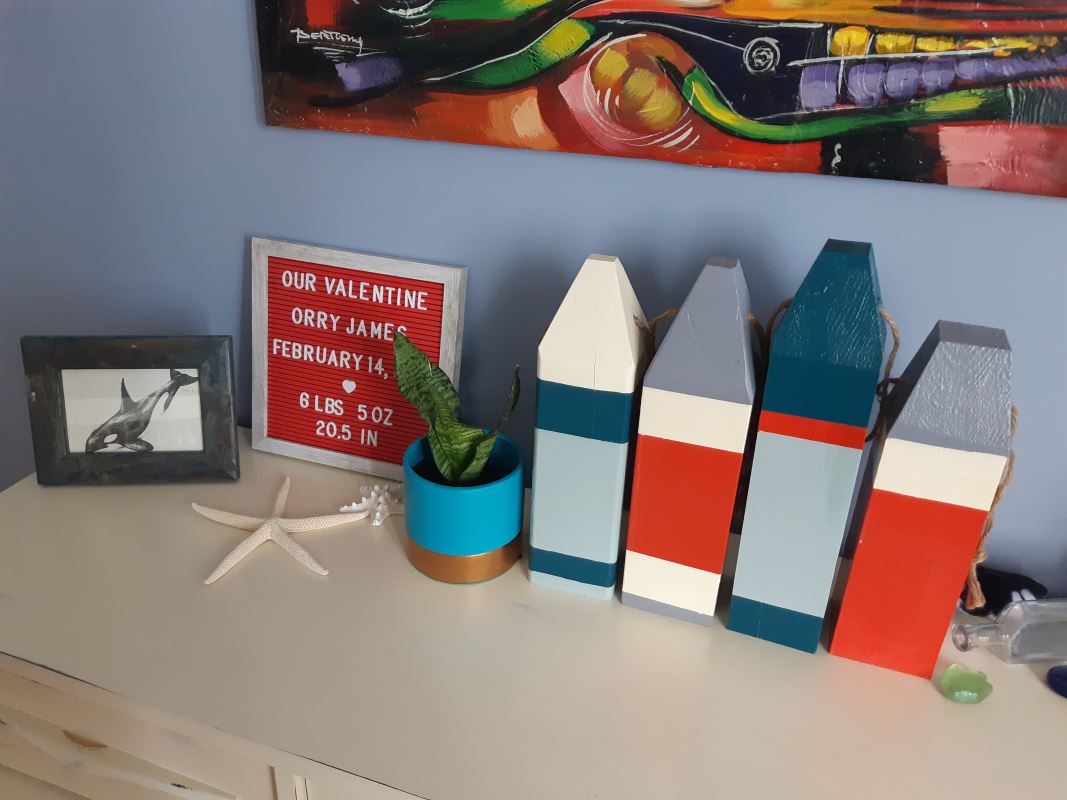 I was browsing the clearance rack at a local home decor store and found the net in the upper corner of the bedroom. I thought it could be used as a fisherman's net, but had no clue how I was going to hang it. I ended up using command hooks and just lining them up and hooking them into the net. I had mentioned to my kids that I wanted to find some little ocean themed stuffies to put in the net and my daughter Delilah got very excited and said that she had the perfect stuffies for it. She collected some National Geographic toys from McDonald's a few years ago and said she had a dolphin, manta ray, sea turtle and whale. Along with some starfish, we fiddled around and trapped her stuffies in the net! I made a joke about being against animals in captivity, but since this was pretend and for the sake of creative decor, it was ok!
The anchor and wheel set was a gift from my sister, who lives in Vancouver Island. She said that there is a lot of cool nautical decor items there. She is also an ocean lover and was super excited about our nursery theme. The vintage Prince Edward Island tray has lobsters on it and Will found it years ago at a garage sale. It was very sweet that a tray he had moved around with him for many years finally was going to make its way into his baby's nursery. (Much like my painting from the Dominican Republic.)
The AWAY sign was painted locally by a friend. This was a requested piece from Will. He has a dream to move to the East Coast someday and if you are not born there, you are considered "AWAY". It was the first I had ever heard of this but it seemed like a cool way to tie in his love for the East Coast into our little Ontario nursery!
On the dresser is a few nautical Scentsy warmers, the metal lighthouse "Portland" and the buoy "Ahoy" are two retired warmers that I had in my little collection of beach themed warmers. The Under the Sea Scentsy diffuser was also a nice touch. The nursery will smell so good with these in there! Friends of the blog will notice the Upcycled Book Shelf is being used in the room to help me keep organized of all sorts of baby items! Our little octagonal nightstand is the perfect spot to put some more buoys, an adorable narwhal nightlight and a little sailboat calendar that has been set to Orry's birthday! Sooner or later, I may actually start keeping track of the days with it!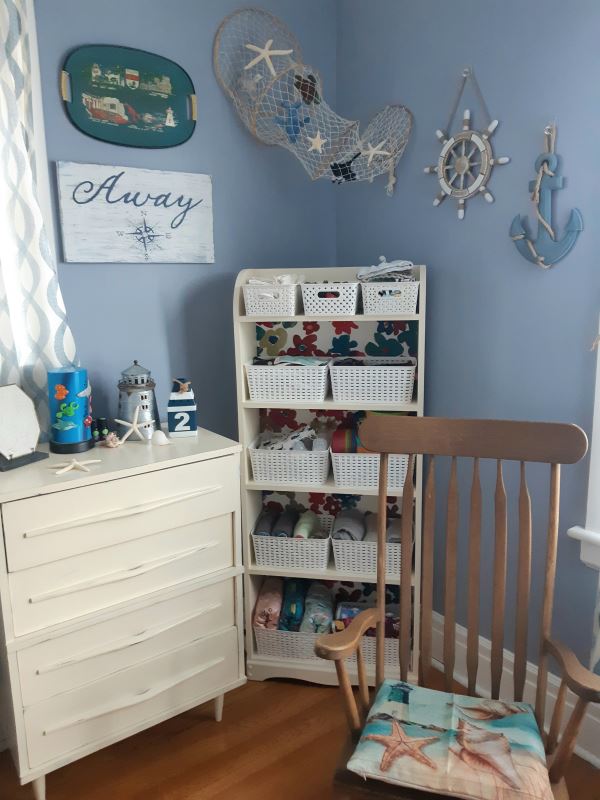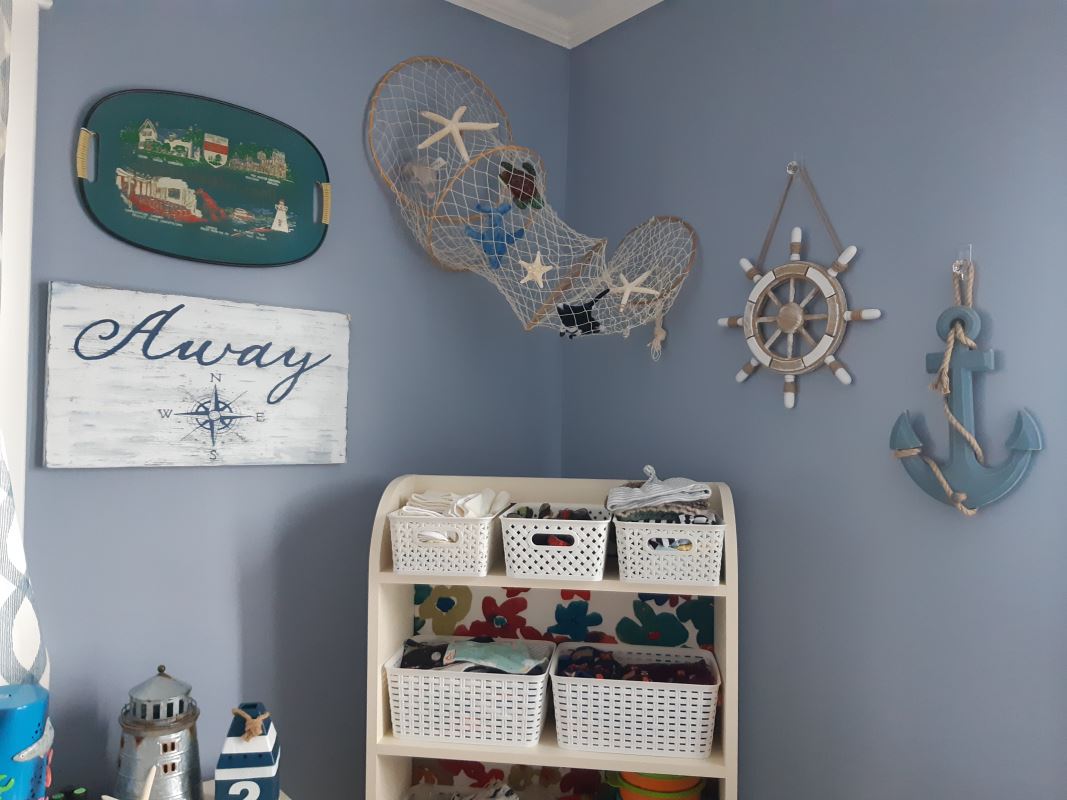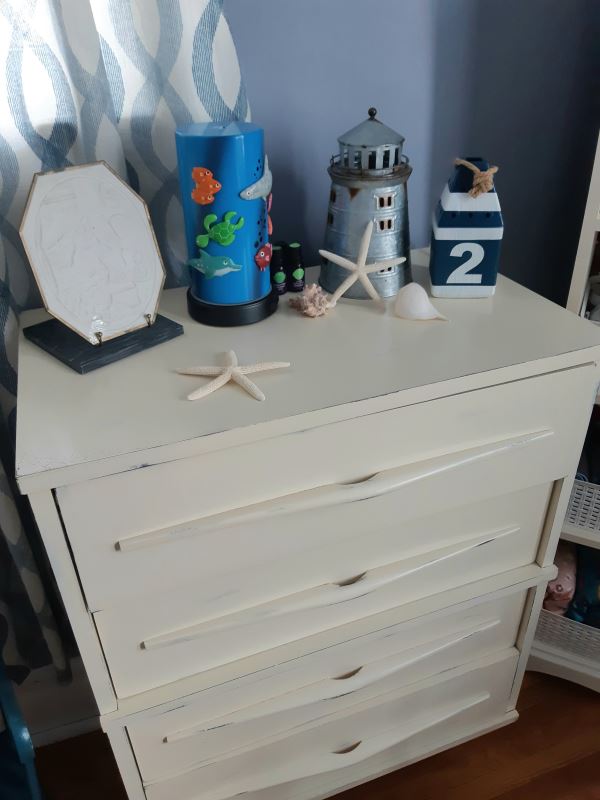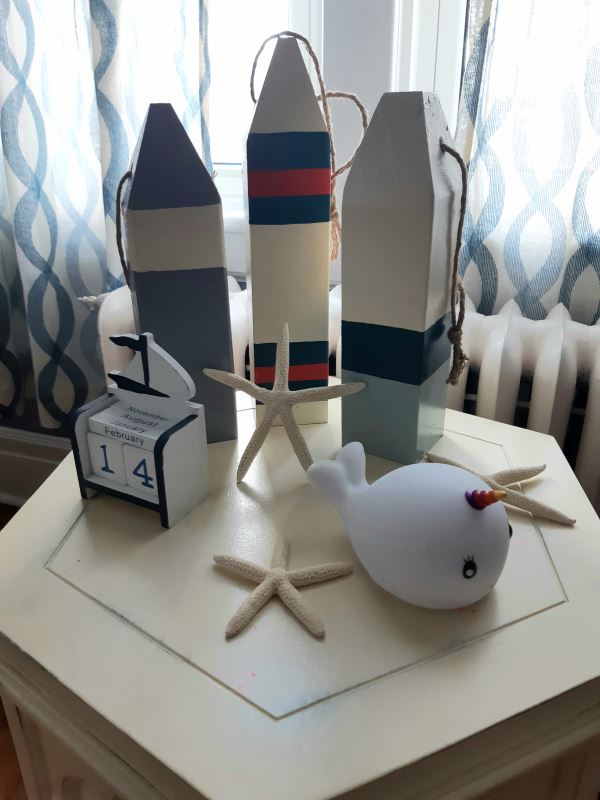 By far the most creative area of the nursery, at least as far as the nautical theme goes, is our changing table area...or the "Poop Deck"! I saw this idea on Pinterest and knew that our nautical nursery just had to have a Poop Deck! My cousin gifted me with a plain wooden change table and I asked him if he would be offended if I painted it. He told me I could do whatever I wanted with it! I chose a sweet light blue colour and spent many nights painting and varnishing it until it was just right. I bought baskets to house my cloth diaper collection and a Bumbo change pad for diaper duty. The change pad has a little nautical cover on it at the moment, My friend did a little vinyl "Poop Deck" sign for me and I hung it up with command hook velcro. My sister found a cool vintage looking octopus poster that I had plaque mounted for above the change table and it finishes the area beautifully! Our little one is going to have so much fun stuff to look at in this nursery!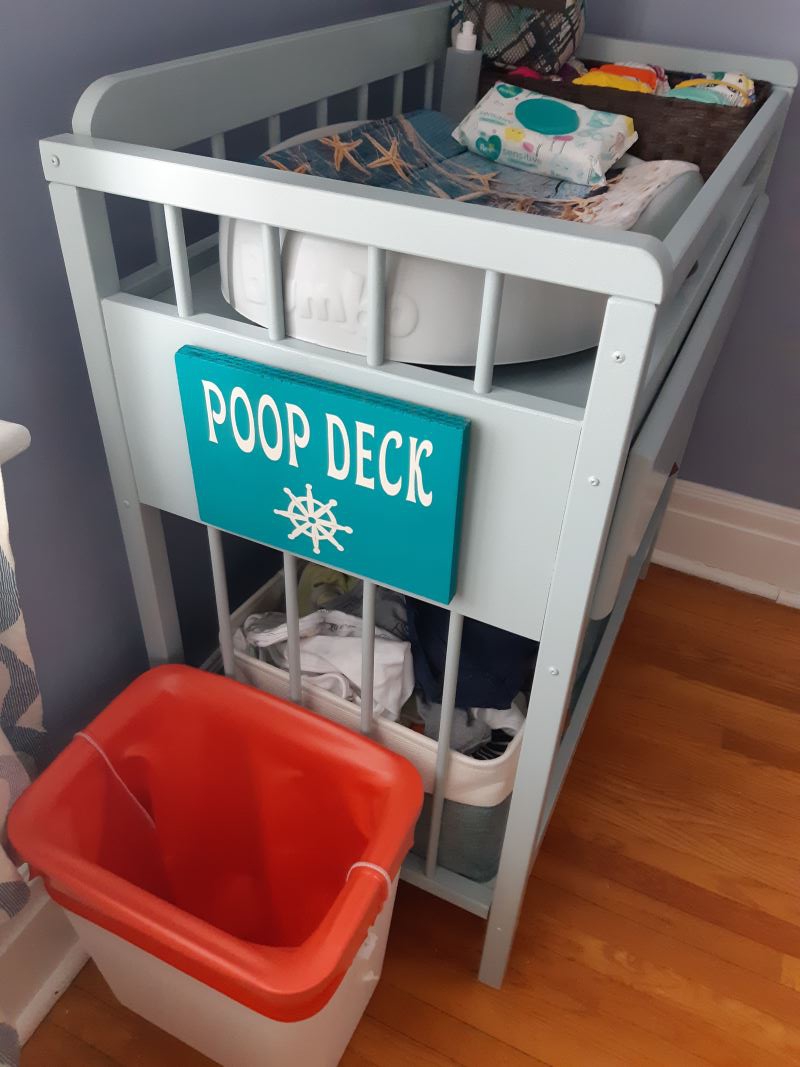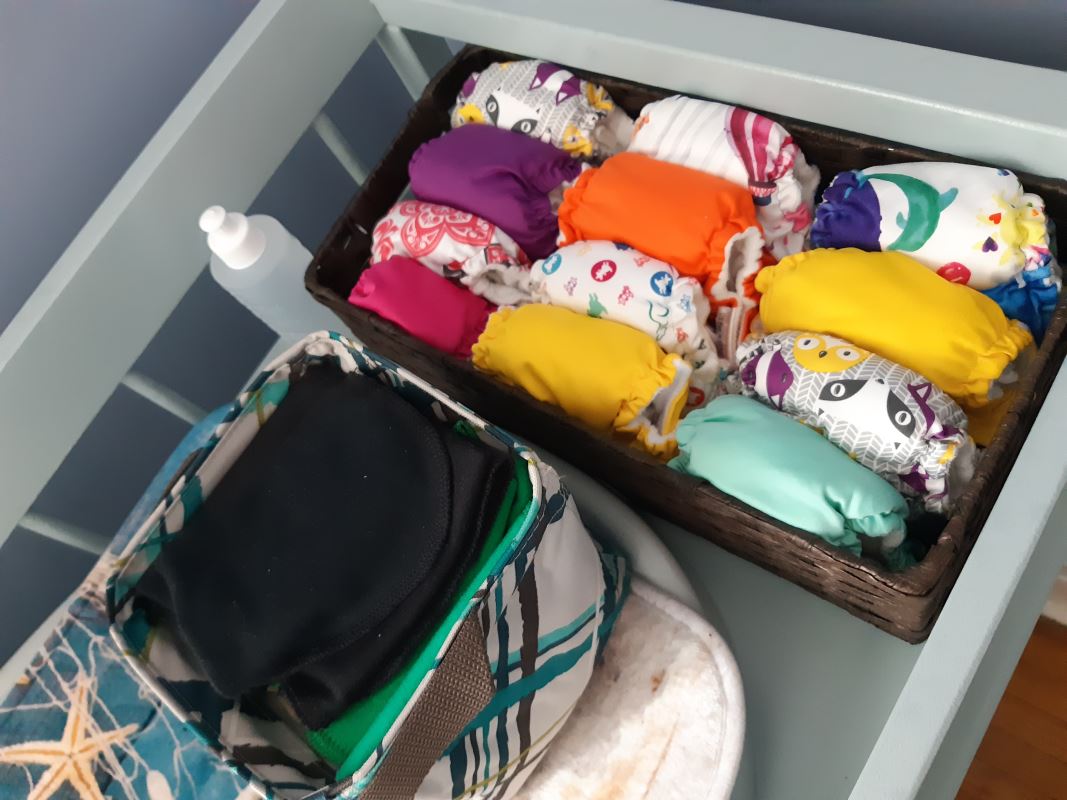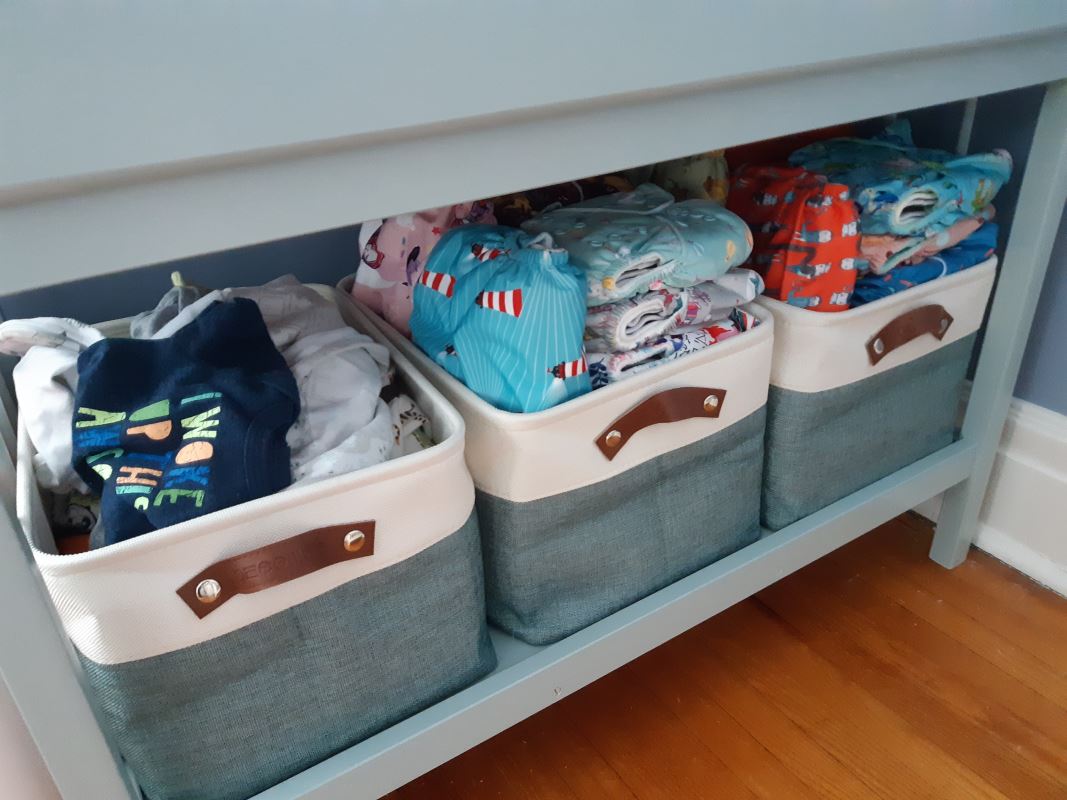 We are cloth diapering our wee babe. We have some Lil Joey Newborn sized diapers for now, that will fit until about 12 lbs. And then we have a huge stash of Lil Helper cloth diapers that will be used until potty training!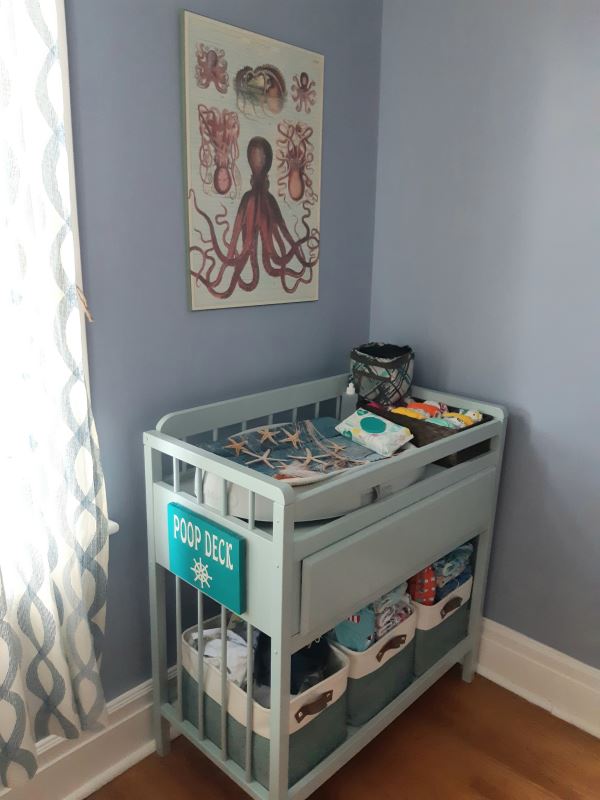 And finally, the last little area of our nursery is where all the blissful sleep will take place...or not. The crib style had a quiet calm coastal feel to it without actually being coastal. The natural colour fit in well with the other colours in the room and I had fun watching my boyfriend and his Dad do the work putting it together! The canvas art piece certainly belongs in a beach cottage, but I think it works in a coastal themed nursery as well! I figured babies "Eat, Sleep and Repeat", so we might as well throw the "BEACH" in there too! My Mom had a beautiful aquatic quilt made and it is in the crib with a couple of sea creature Scentsy buddies. I have a little collection of vintage knitted baby blankets, one is even as old as I am...and I wanted to display them as decor. I had a little blanket ladder made to hang these on and they add a beautiful pop of colour to the room.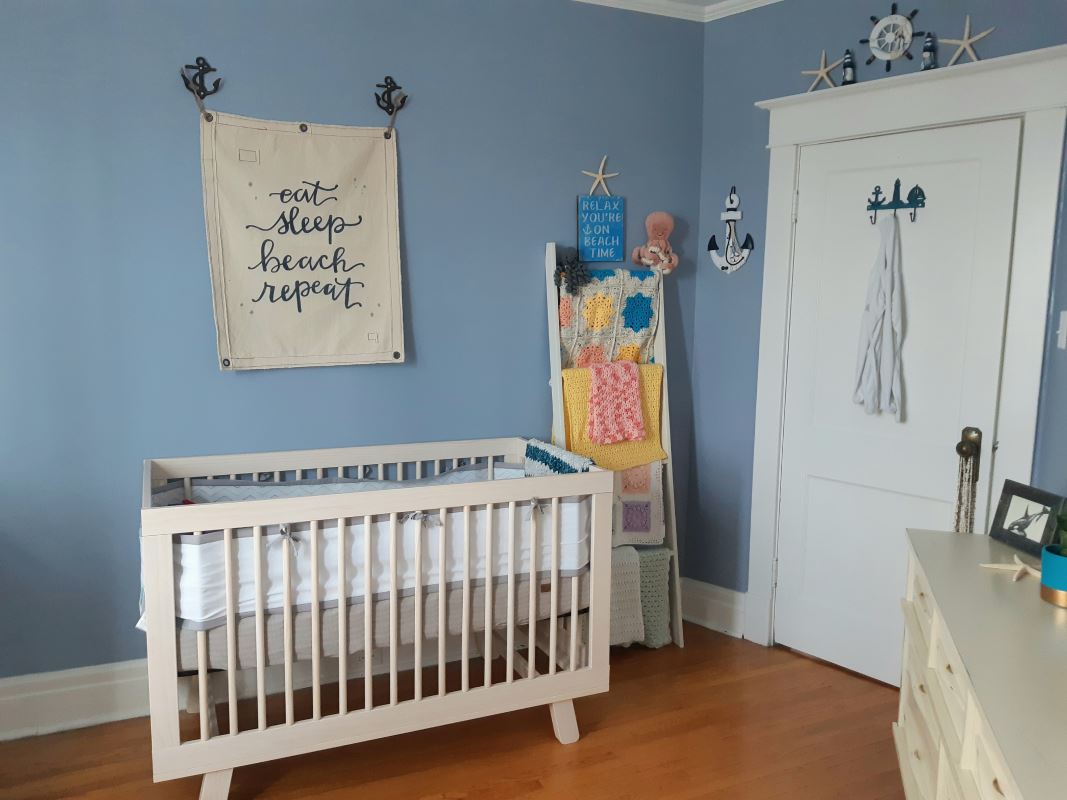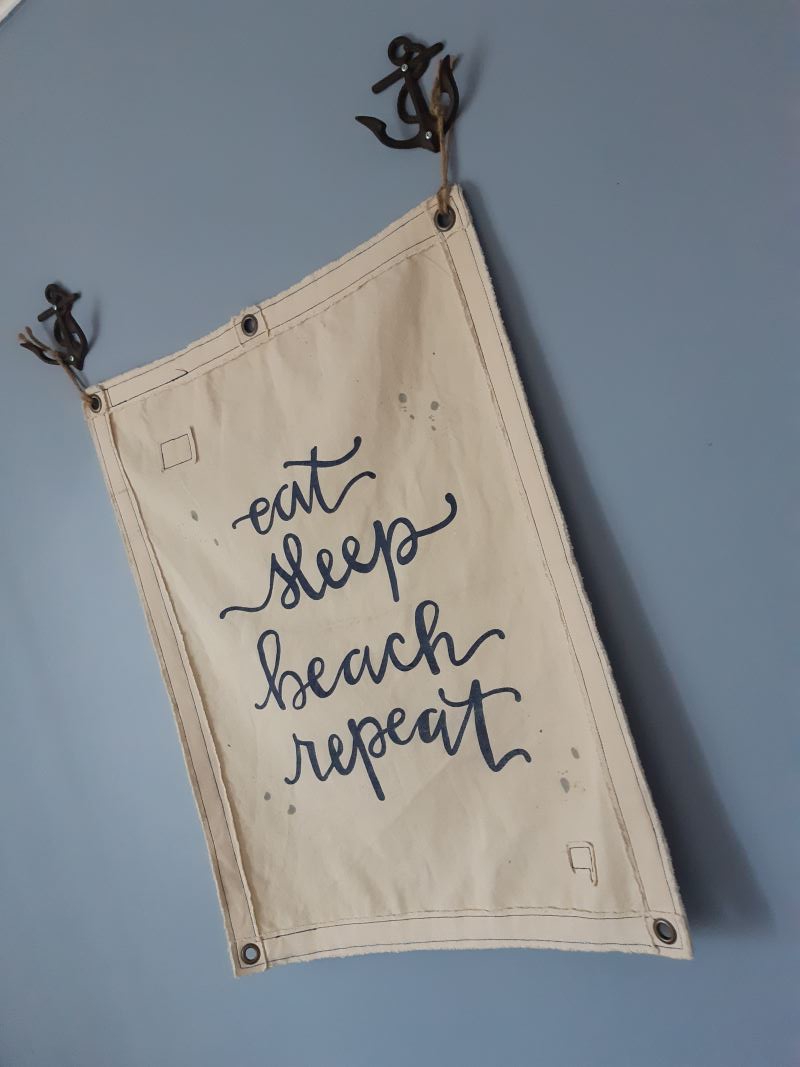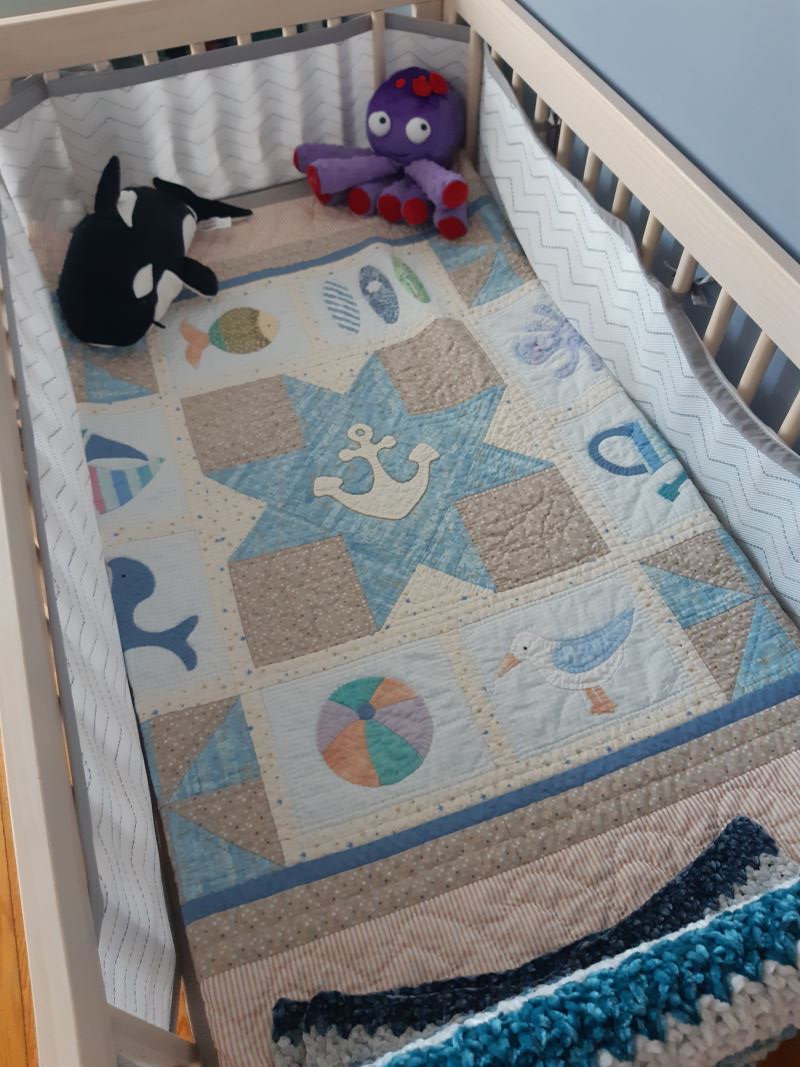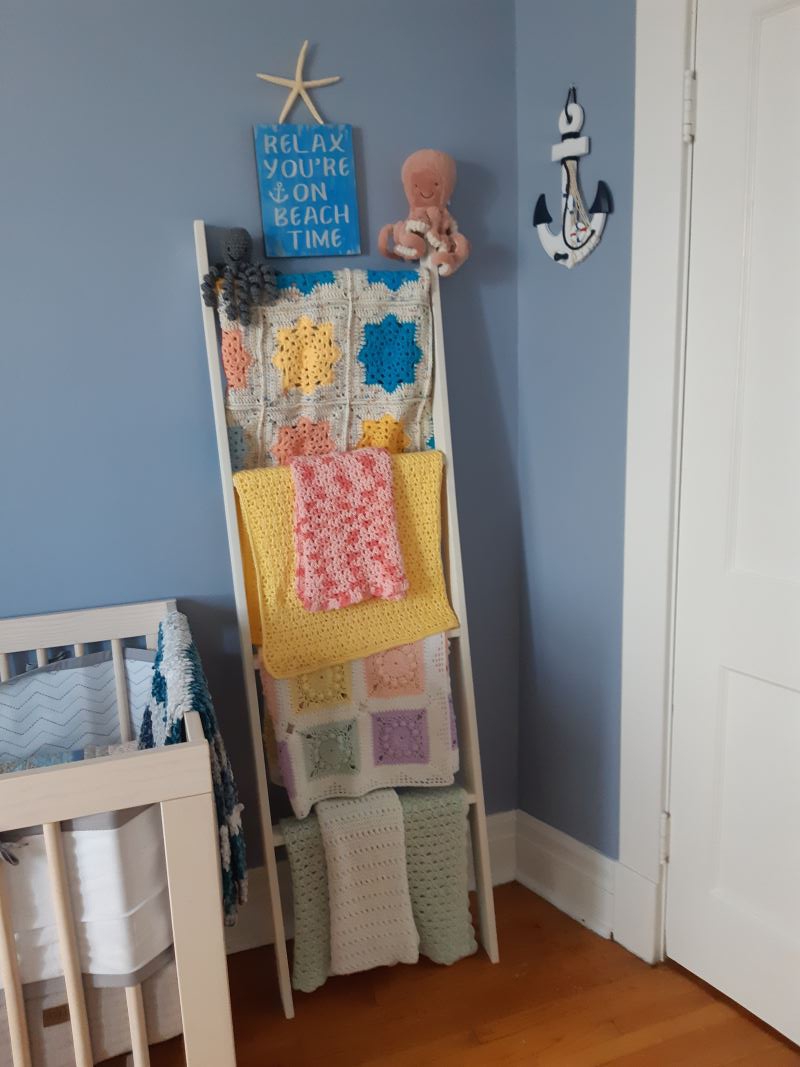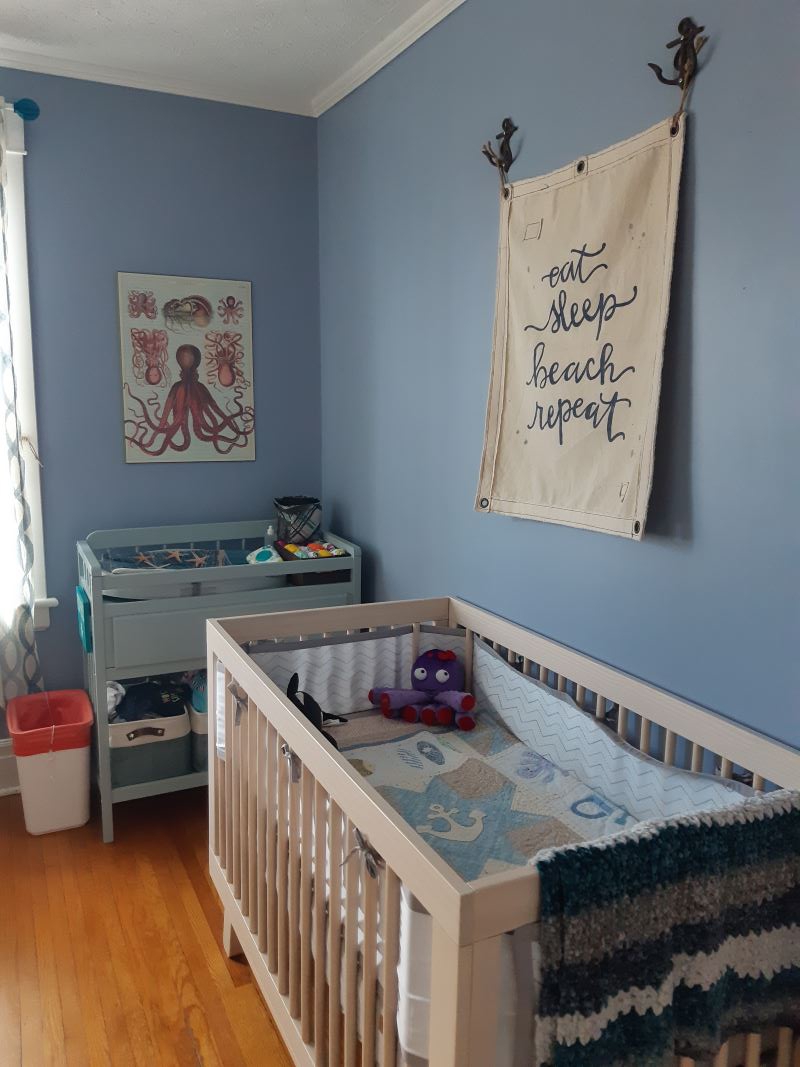 The nursery was finished, decorated and ready for baby! All that was left to do was to bring baby home. Our Valentine's Day was made even sweeter when our baby boy, Orry James, was born. There is a new Captain in our home and buoy oh buoy, he just loves his Coastal Nautical Nursery! And we are all in love with him.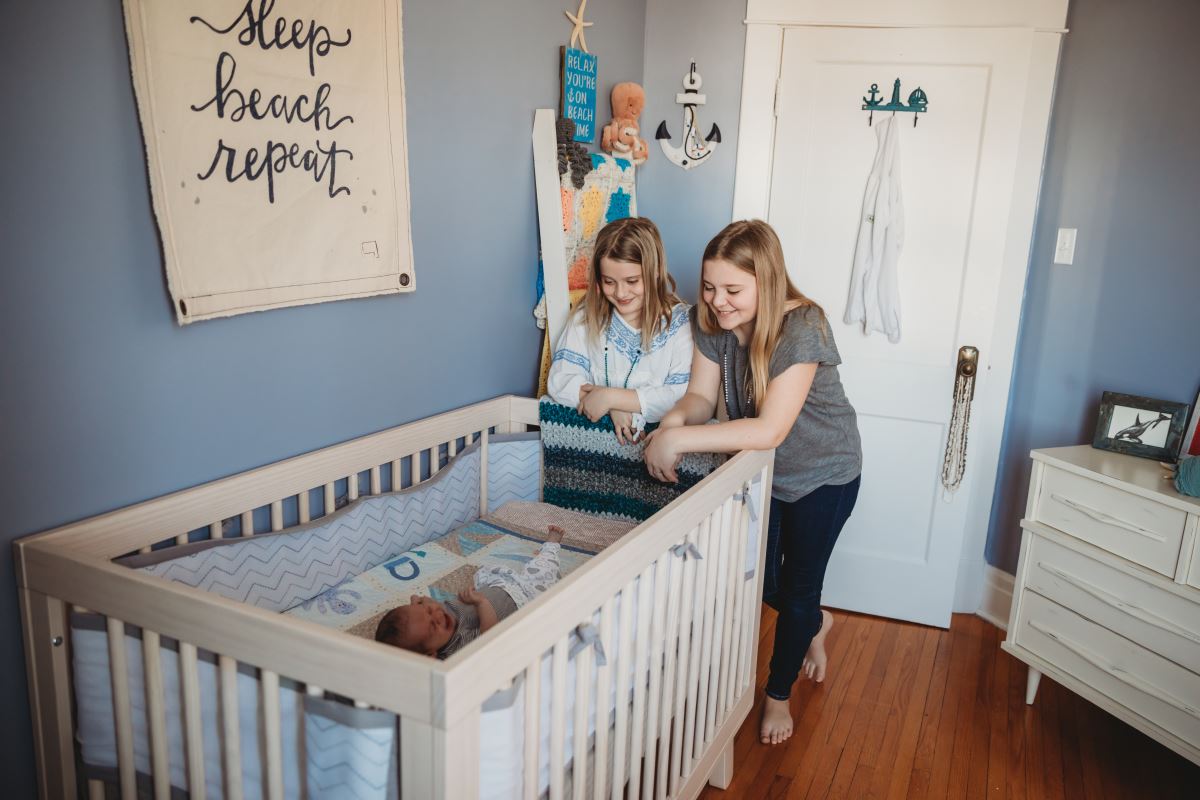 Photography Credit: Joanna Lynn Photography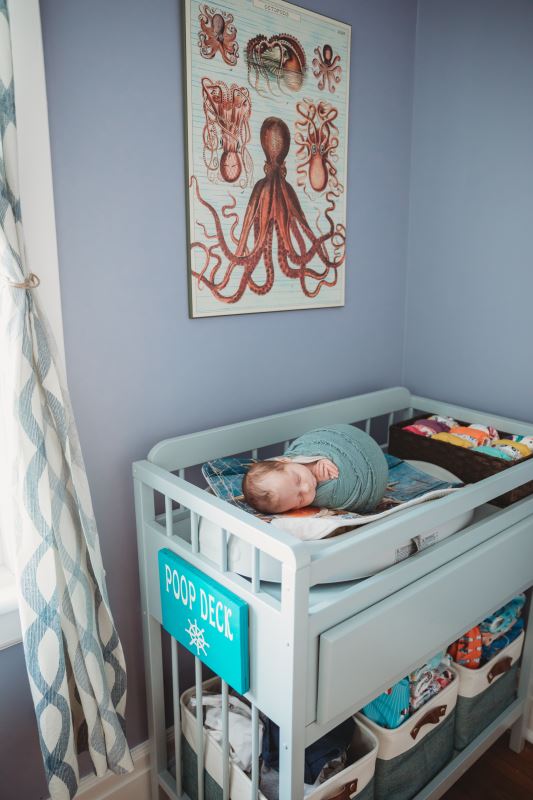 Photography Credit: Joanna Lynn Photography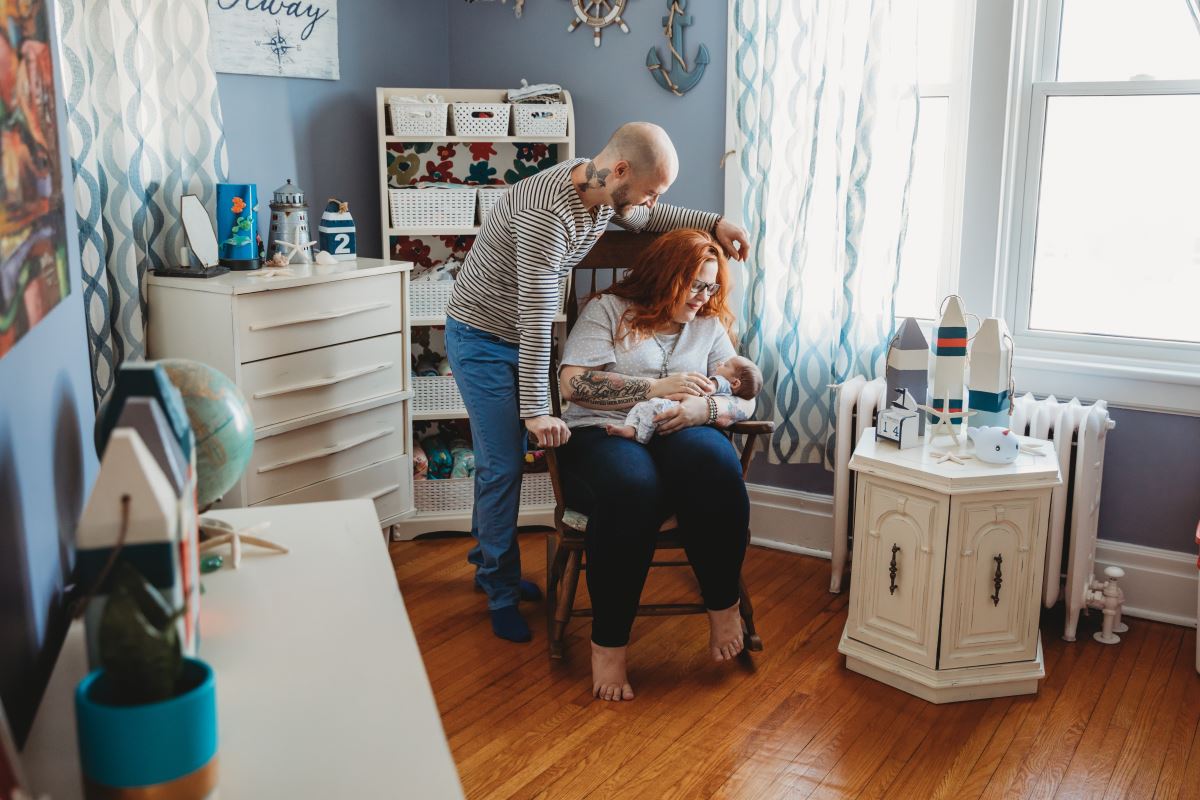 Photography Credit: Joanna Lynn Photography

Brooke
Comments
Tuesday, March 16, 2021
Just a beautiful blog my friend.
-- Sheree Shannon
---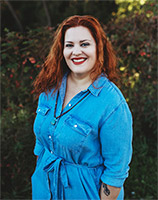 Writing an "About Me" is not easy. How do I pick and choose the pieces of my life that molded me into the person I am or deem the milestones and memories as important enough to tell you about in this little "About Me"...Well, I often joke that I have
Read more about me...