Upper Balcony Reveal-Making It So Pretty!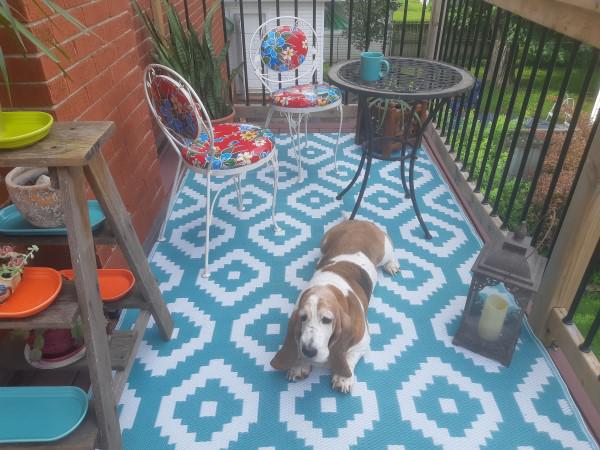 I love tackling projects at my home. I love seeing the visions I have come to life. I usually encounter quite a few little bumps in the road along the way, but this Upper Balcony Makeover was relatively simple and smooth. Harriet, my basset hound enjoyed spending some time up there now that it is all colourful and pretty!
I talked about a few of my key pieces used to pull this makeover off in a previous blog post that you can check out here Upper Balcony Key Players On their own, the pieces themselves were pretty bland and boring as you will see. But together....wow. I love my Upper Balcony now. It is the perfect place to chill with a book, enjoy my morning coffee or a glass of wine and just be alone with my thoughts.
The biggest project I needed to do was to reupholster my iron chairs. I wish I had taken a "before" pic of these! (Rookie Blogger mistake!) They were not super simple to reupholster and my skills only go so far, but Mom and I managed to pull it off with a lot of stretching of the fabric, a few F words sprinkled in for sound and a lot of staples. I had this fun Mexican oil cloth fabric, which is basically plastic and waterproof, so will not get destroyed in the summer heat or rain. I had to get new wooden boards cut to the right size because the originals were rotting. I used some chair foam to attach to the seat and back boards and glued it, then used a compressor to staple and attach the fabric. Sounds simple enough. It took me the better part of an evening. The backboards got screwed in and the seat cushions just set in and voila! Perfect and happy little deck chairs. The fabric literally makes me giddy when I look at it. I love the colours and the graphic pattern. They are punchy and vibrant (a little like me perhaps!?) The elegant scroll in the iron is totally swoon-worthy too.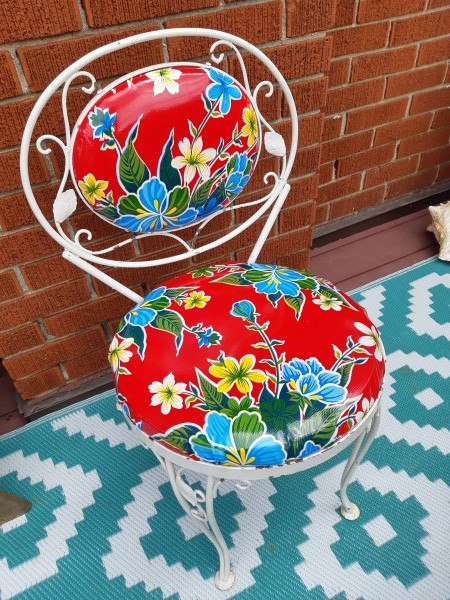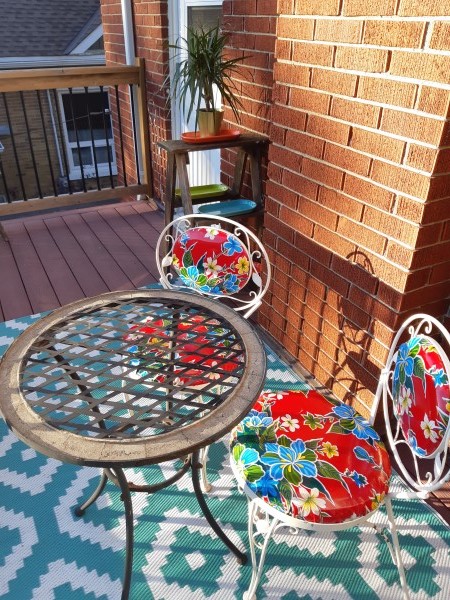 The carpet came from Costco. It was $17.99 and I originally purchased it to put under my patio set in my backyard. It didn't really work there so I brought it up to the balcony and it just fit. Like...I am talking to the inch, it fit perfectly . It is when I put the carpet down and the chairs on top of it that I realized this was going to be a colourful place.
The next little corner of my paradise was put together fairly easily. We went to the nursery and bought some succulents to make a succulent garden out of my blue enamelware basin. My girls painted some stones with nail polish and we planted the succulents in some dirt and just designed it with ease. It really did turn out beautiful. I used the rickety old wooden chair to place the new succulent garden on and it looks really cute in the balcony corner. And the best part about these succulents is that they require very little attention! The last picture shows a lot of growth in these succulents in the few weeks since I planted it. I bought a sweet Bougainvillea tree and placed a conch shell beside it to remind me of my life in the Dominican Republic and the pinks in this tree look beautiful in the sunshine! Another tropical King Sago Palm made its way to my house and I am on the hunt for a pretty planter for it, but isn't it cool too? It is a tropical life on my balcony.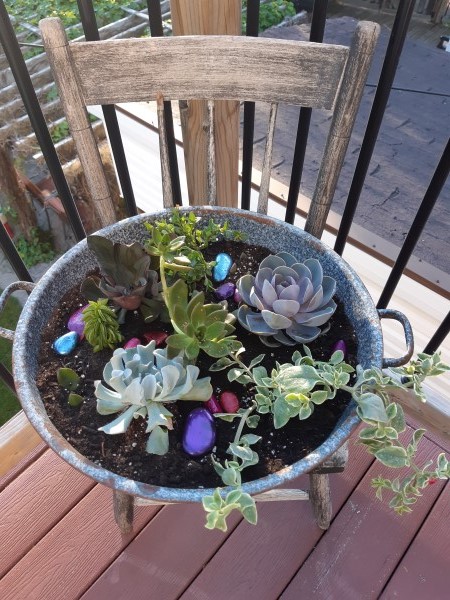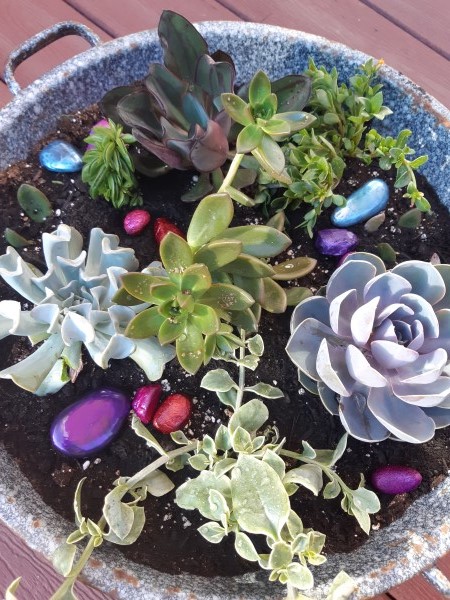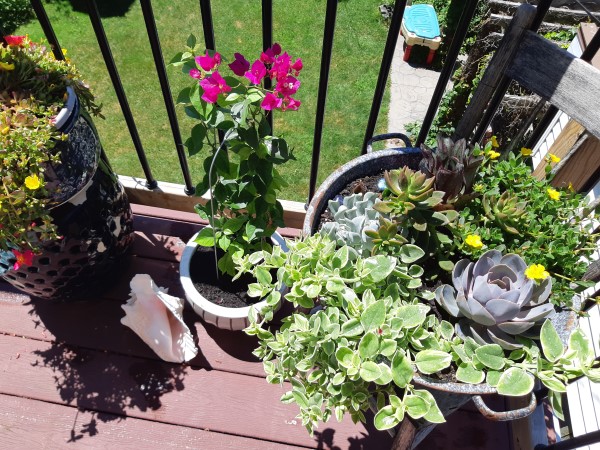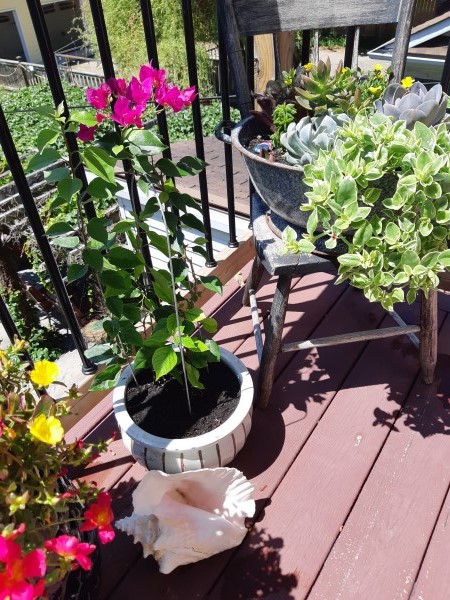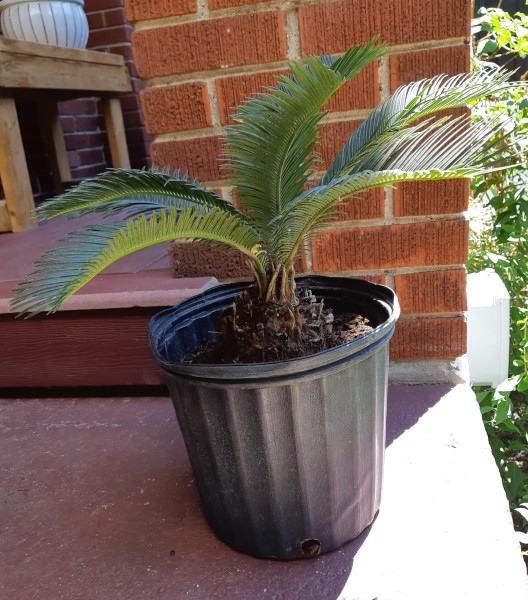 Many of my friends will know that within the past few years, I have fallen in love with Fiestaware. Fiestaware is an American brand of dishes. They are heavy duty and vibrant and I have taken a few road trips to Newell, West Virginia to visit their factory outlet store to score some new additions to my collection. I had a bunch of these bread trays lying around my house. They are great little pieces and I use them for my coffee table to hold the remotes and beside my sink to set my dish soap and cleaners on. My kids both have one in their bedrooms for their dresser and they toss their combs and money and little treasures on. They are just great little trays. Well here is another use for them. I decided to use the vintage wooden ladder as a plant stand and going along with the theme of "all the colours!" set a Fiestaware bread tray on each rung of the ladder. I grabbed some plants and played musical plants until I was happy with how it looked. A friend just gave me a really cool cactus to put on here too. You will see a few different versions of this plant ladder, depending on when I took the picture...Here are a few pictures of the evolution of my little ladder of plants!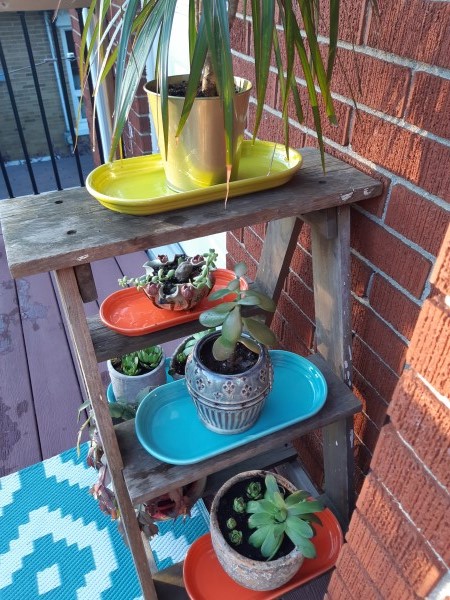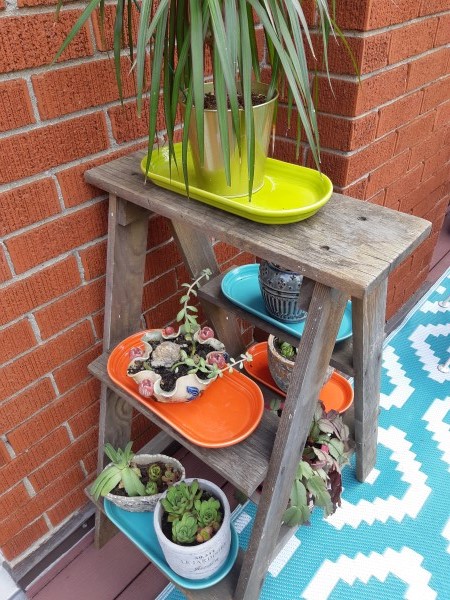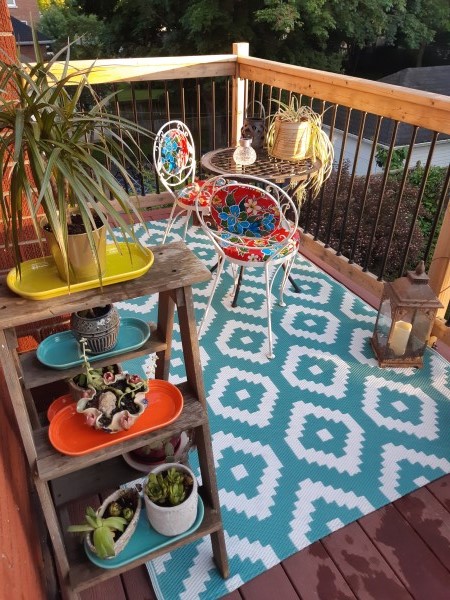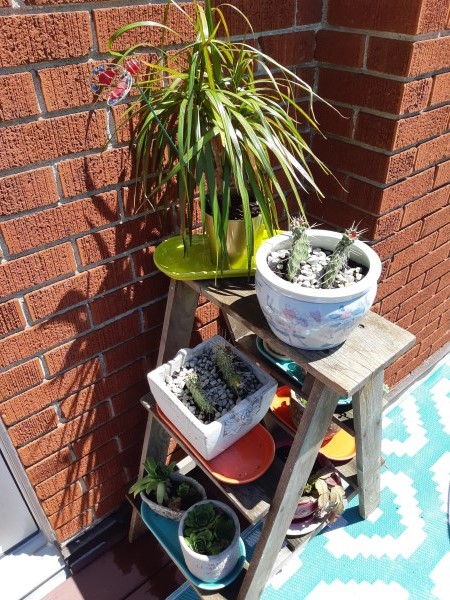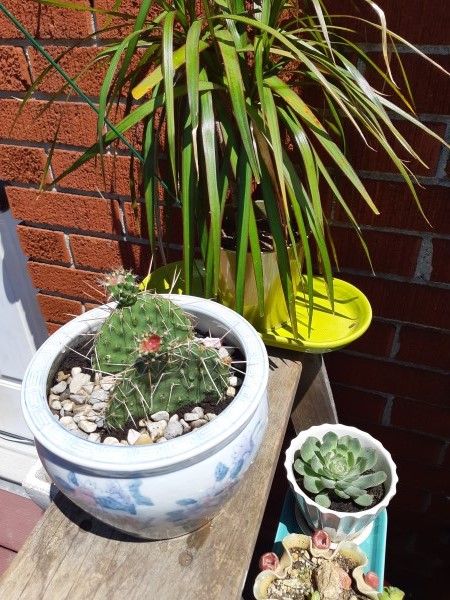 I pulled it all together by just I filling in the blank spaces with more life and colour....I bought a flower basket to set on my garden stool. A friend gave me a super fun purse planter. I had a rustic looking lantern in my shed that was collecting dust, so I brought it out. A really cool terra cotta planter and a bigger plant to fill in these spaces. I played with the design and finally found places for everything. I don't remember how many bottles of my Pineapple Pear and Raspberry Peach Sangria were consumed during this project, but it was more than a couple. :) It came together very organically and cost wise, I spent about $100 bucks on succulents and $18 on the outdoor carpet. The rest of the stuff was already in my house either purchased a long time ago or given to me. My Aunt gave me a fun wooden calendar (that I am sure I will never remember to change!) Sitting up here just makes me happy....and since being happy is my number one these days, so this makeover has been well worth the effort.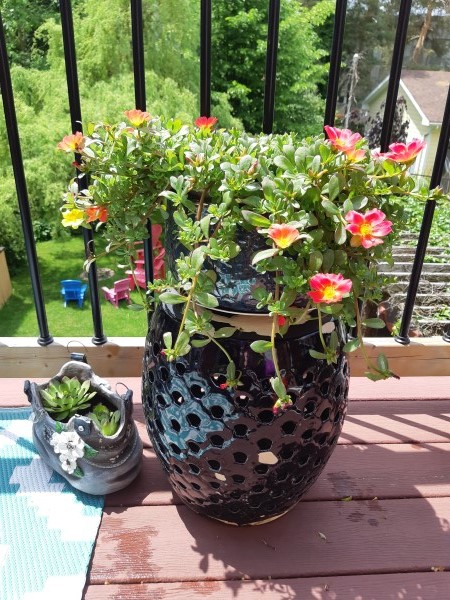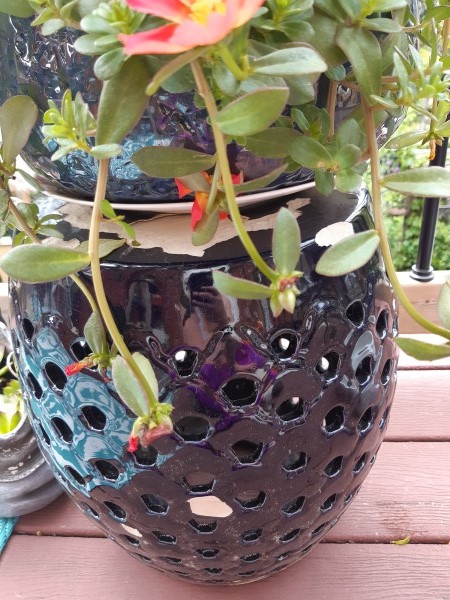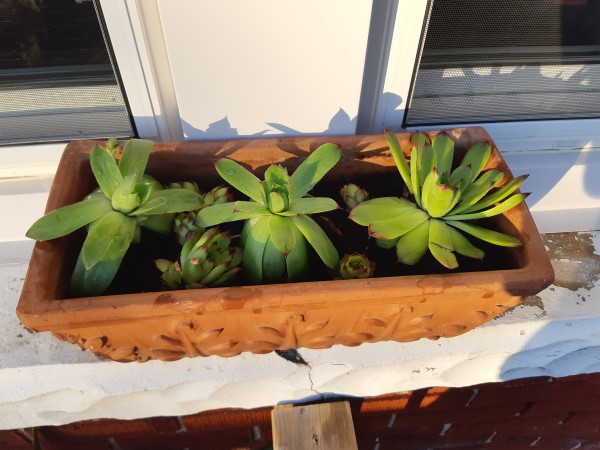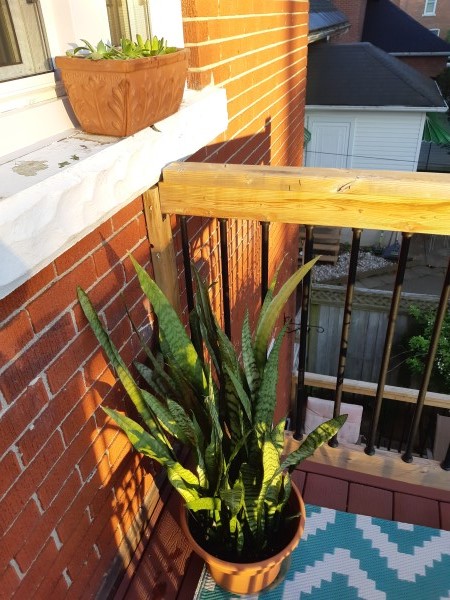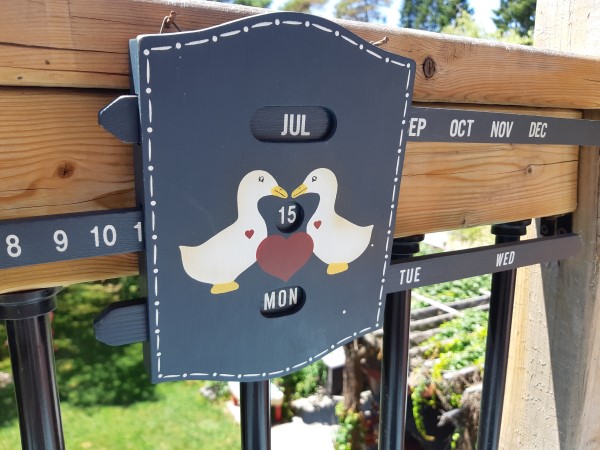 And finally a few wide shots of the finished product! I am sure that there will be more added as the summer goes on and as I hit the flea markets. I do want to find some cool metal art to hang on the brick and am on the hunt for a comfy pillow lounger. The really fun thing about a "room" like this, is that there are no rules and anything goes! The quirky things can have a home on this balcony. I have had a few friends over already for some drinks and girl talk up here and it is just a lovely extension of my home that I am proud of. Shoutout to my Mom who did help me a lot in pulling this off. It does get a bit hot in the direct sunlight, so timing is everything, but if the weather is that perfect moment when it isn't too hot or cold...having this place to hang out makes me a very lucky girl. If we are due for a visit, let's get together. I have the location all ready for us! All you have to bring is yourself...And maybe a cute little trinket to leave on the balcony as a reminder of our friendship and to make it an even better place to be.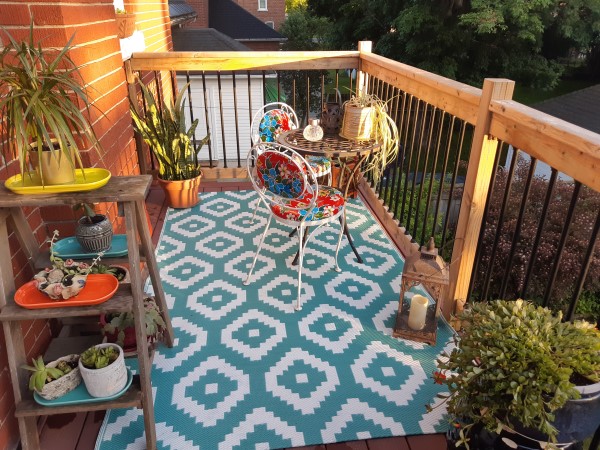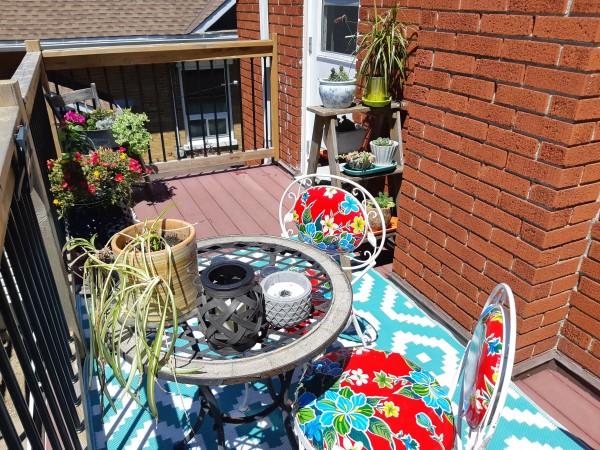 Brooke
Comments
Tuesday, July 16, 2019
I love it, it looks great very artistic Brooke 😊😊
-- Melissa
Aww sweet thank you Melissa!! It is almost wine o'clock now!

Brooke
---
Monday, July 15, 2019
Wowzers! What a beautiful job, Brooke! The pictures are amazing- I love it!
-- Colleen Misner
I had a hard time picking the final pictures...they do say a thousand words! Thanks Coll!

Brooke
---
Monday, July 15, 2019
Looks fun and fabulous!
-- Shawn
....and feisty too right!? Haha thanks!

Brooke
---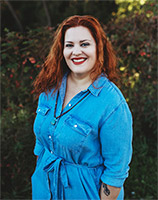 Writing an "About Me" is not easy. How do I pick and choose the pieces of my life that molded me into the person I am or deem the milestones and memories as important enough to tell you about in this little "About Me"...Well, I often joke that I have
Read more about me...